2005-11-26
Seto Ohashi Bridge
Helgens gruppresa med Kuinep och general exchange-studenterna var mycket trevlig och det kommer ett helt fotoalbum om den snart men det var en speciell plats vi besökte som berörde mig extra mycket och som jag bara måste få berätta om på en gång. Den platsen var "Seto Ohashi Bridge" som förbinder Honshu och Shikoku, två av de stora japanska öarna. Vid denna oöverträffade milstolpe i ingenjörskonstens historia finns det en park, en utkiksplats och ett museum med en mindre Cosmonova-biograf som kan få en att förstå vilken betydelse den haft inte bara för japansk kommunikation utan även för mänskligheten i stort. Manuset till filmen var visserligen avsett för japaner men översättningen till engelska var väldigt precis och den klockrena Amerikanska uppläsarrösten missade inte en enda av det japanska originalets nyanser. Tyvärr finns det inget sätt att över internet förmedla den svallvåg av känslor som uppstod inom mig när jag fick skåda miraklet med egna ögon men nedan finns det ett par korta (ordagranna) utdrag ur vad som sades i informationsfilmen ackompanjerad av de bästa trummaskinerna och syntbasar som 80-talet kunde frambringa.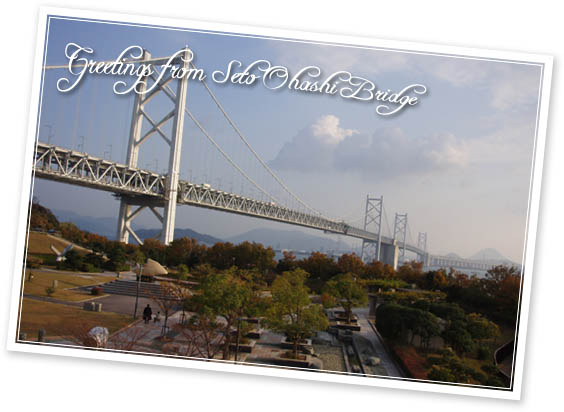 The Seto Ohashi Bridge deepens the understanding of man
The Seto Ohashi Bridge blends in harmoniously with nature
The Seto Ohashi Bridge glitters like a revolving star into eternity
The Seto Ohashi Bridge continiously widens the bonds between people
The Seto Ohashi Bridge never sleeps, not even at night and beckons to the future
The Seto Ohashi Bridge brings people together and accelerate our hopes into the future
The Seto Ohashi Bridge does not only transport people and goods but also culture and information
2005-12-28 20:22:19
Beer is liquid bread - It's good for you! Beer is all your synthbass are belong to us! Beer is you will be assimilated! Resistance is pachinko!

2005-12-02 18:15:41
Jag måste säga att med en sådan bro förstår jag att det går bra för japan!!